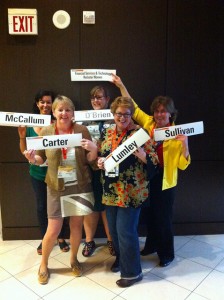 I've been wanting to share a post-SXSW wrap-up for awhile, but I've been waiting on the pretty pictures folks- and pretty they are!
Again in 2012 I had the immense honor to sit on Financial Services panel at SXSW. This years I was lucky enough to be one of the Spice Girls, err Financial Service Rockstars speaking on financial services innovation.  I talked tweets and trades with the lovely Simone McCallum (ASB Bank), Liz Lumley (Finextra), and Sarah Carter (Actiance). Our banter was skillfully moderated by the equally as ravishing Joyce Sullivan (SocMediaFin).
While there was lots to give my brain a work out, there 3 things that I find my mind still coming back to even though Austin is now far away.
1.  The term "local" no longer just applies to physically or geographically close; it has expanded to include digitally close. We need to change the way we look at consumers' local needs to match this evolved definition.
2. Banks aren't a hip thing to be interested in and can be considered a taboo topic of discussion. This is is hurting the ability of our current financial services systems to evolve. It is our responsibility to help change the stereotype for the betterment of the industry.
3. Financial Services IS a fundamentally social business. It is the only industry that is an active part of every life decision you make. It's time for the banks and  consumers to realize the power of that relationship and build upon it.
Below is a pretty sketchnote drawn by Alexis Finch that sums up of the rest of the panel discussion. I hope it supplies you with even more brain fodder.