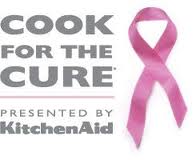 I love when brands take good charity ideas and give them a social twist. KitchenAid's 1,000 Cooks for the cure is a great example of just that. The program encourages cooks of all kinds- from gourmet chef to home cookin' heroes to use there talents to give back. Uniting a community around a good cause is always an excellent thing.
The twitterverse seems to agree:
#FOOD #CookForTheCure twitter.com/tashadoroodian…

— Natasha Doroodian (@tashadoroodian) July 15, 2012
How does it work? Well KitchenAid asks foodies to some DIY fundraising for Susan G. Komen for the Cure ® by throwing a fundraising food fanfare at home, at the office, or wherever else your nomage takes you.  There goal is to attract 1,000 cooks for the Cure to put their ladles, spatulas, and emulsifiers to use in the name of charity.
You can find  out all about hosting a 1,000 Cook for the Cure party here.